CV Music Awards 2019
Our Story
Alien DNA is an out-of-this-world fusion of Rockabilly, Acid Jazz, Reggae, Rock, Funk, Country and Psychedelic Blues. Keyboardist Shannon 'Soul Fingers' Graham is the captain and protagonist of these musical space beings who won the 'Best Instrumental Band' award at the 2019 CVMAs.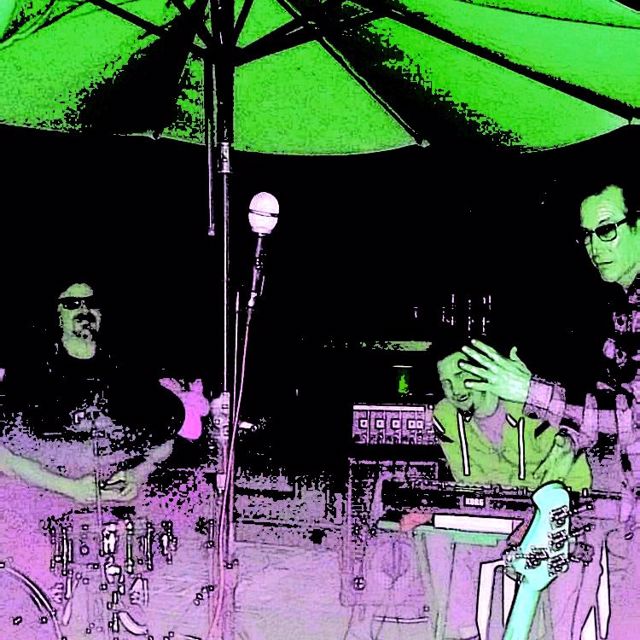 From Article: https://coachellavalleyweekly.com/alien-dna/com
WHO IS? ALIEN-DNA
Alien DNA. Andrew Bentzien = 'Andruid' on standup bass, Branden Bourger as 'Slothy B' on an old Soulful drum kit that has been passed down through many drummers and no one has yet to throw this piece of junk away! Slothy B turns it into drum machine of timing funky madness. Shannon Graham Soul Fingers, keyboardist and synth master; part of our jazz is very trippy, spacey and bass, drum, and keyboard based." Some Say Alien DNA sounds like The Doors meets Elvis meets the Grateful Dead.
CVW: What's Alien DNA's approach to instrumental music?
Graham: "The sound we create comes from some interesting roots.
Andruid likes Americana-Rockabilly-Swing but is also a Deadhead. He sings like an old school crooner too but with a touch of the 80's New Wave sound. 'Slothy B' loves Old School 70's James Brown Funk but he can swing on drums like no one. The unique thing about 'Slothy B' is he is actually a ripping left-handed guitarist and plays the guitar completely upside not restrung; that's rare to see. But his quiet form of drumming is also rare; most drummers like to bang lol, but 'Slothy B ' taps. 'Soul Fingers' background came from a passion for Classical piano specifically Chopin. My roots came from growing up on the Mississippi River north of Memphis, Tennessee. I studied with a famous half blind pianist and grew up with real Blues and Jazz all around me. I started to create a style combining Ragtime piano, which came from Scott Joplin, and Waltzes which many people do not realize that Chopin created some of the most popular Waltzes that were actually made for piano way before the symphonies made it a popular dance form. So we mix all our genres along with synthesizers, which I'm also very passionate about and have a bunch of. I could go on a whole conversation on how those should be played; out comes our unique form of improvised Alien DNA jams…nothing like us, you have to come to hear."
CVW: You were up against some great artists in Penny Unniversity, Tribesmen, Drum Hall, Black Market Jazz, The Woodys & Jazzgrass. What would you like to express to those bands and what they do for instrumental music and the desert music scene as a whole?
Graham: "I think Penny Unniversity is unique with New Age-like Jazz…and some good musicians. I heard their studio albums and they are unique. I also enjoy listening to Black Market Jazz. That 3-piece has lots of Jazz covers with a nice touch by the piano player, who also uses old Rhodes and organ sounds like us. I haven't heard all the other Jazz acts but I hope people in general keep supporting the many variations of Jazz from Standard to Fusion, Alien DNA combines them all. Palm Springs has a lot of lounge history, maybe some of the best in the world. I would love to see our area become a live music capital like New Orleans. It's become a music festival capital but that needs to translate to more live venues. I actually think the downtown Palm Canyon Drive strip should have a stretch of clubs of live music venues in different genres. Live music is so powerful!"
CVW: Many music fans have a difficult time with "music with no lyrics," aka instrumental music. What can Alien DNA do to combat any preconceived notions?
Graham: "Well, we are very much about the instrumental jam and that will always be a fundamental to what we do. Andrew does sing David Bowie to The Cars to 'shake, rattle and roll' songs in our crazy way but very lounge singer style, but it's our instrumental jam that gets spacey like The Grateful Dead and Phish that create our sound. Synthesizers sounds, echoes and wah pedal on keys play a big part of turning us into Psychedelic Acid Jazz. And when 'Drumbacca' kicks in with the hi-speed Funk on drums, we can turn it into a rave dance party if need be."
https://coachellavalleyweekly.com/alien-dna/com